Who are we?
Modern Real Estate Marketing Agency
Our goal is to help agents like you sell your listings faster, while letting you keep more of your commissions in your pocket. Other companies offer marketing campaigns, but no one's email flyers are as great as Send2Sell!
Why you ask? Other companies charge a fortune to use their service. Design fees, sending fees, edit fees, blah blah blah. With our proprietary software, your flyer can be designed and approved in less than 5 minutes. We like to keep it simple so we just charge a small flat-fee per market, with an optional rush order fee.
What we've done
Our Work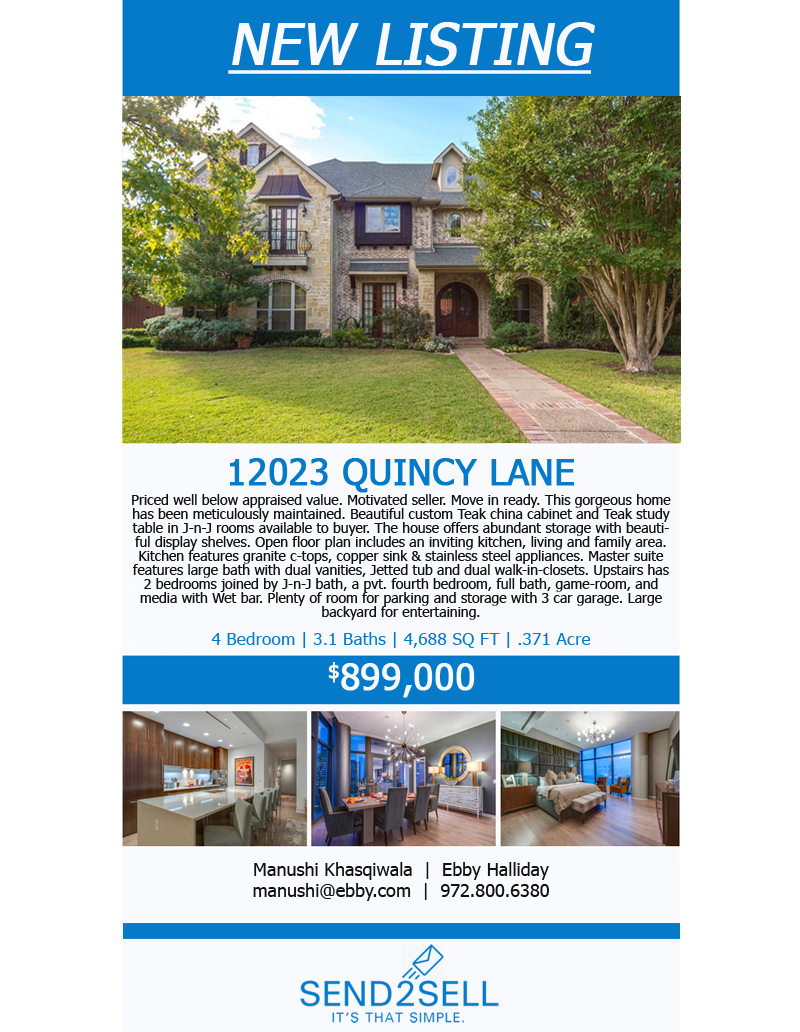 ANNOUNCE NEW LISTINGS
Get your listing in front of tens of thousands of agents.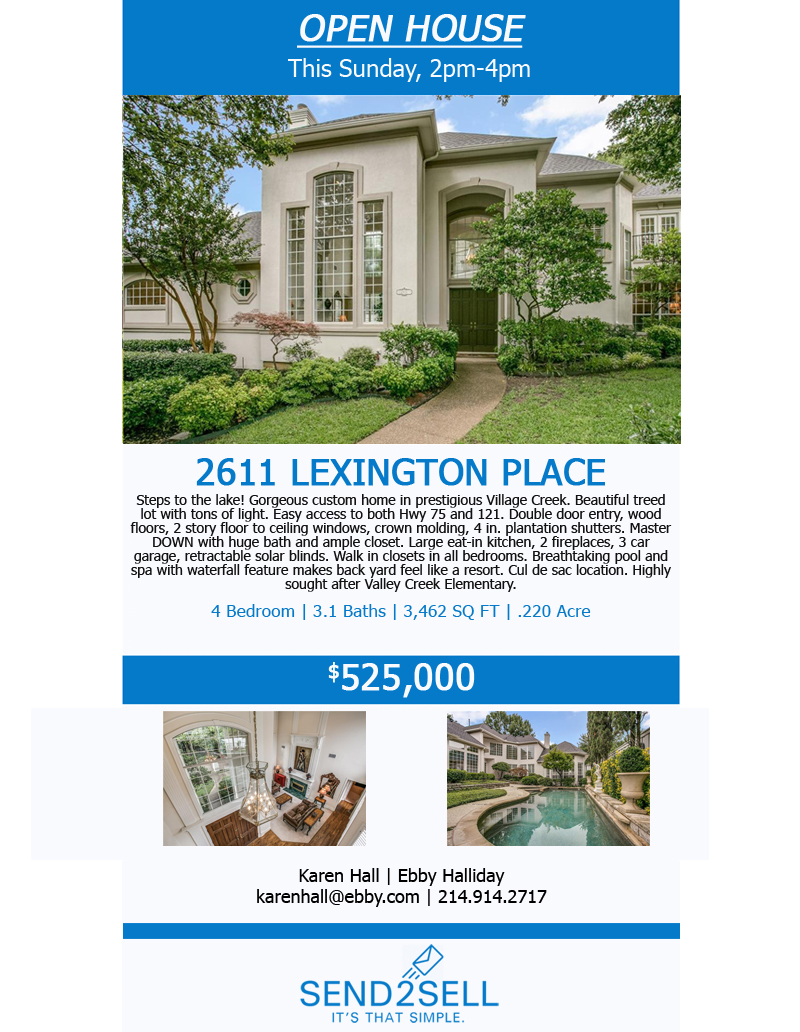 MARKET YOUR OPEN HOUSE
Have a successful open house by letting everyone know ahead of time.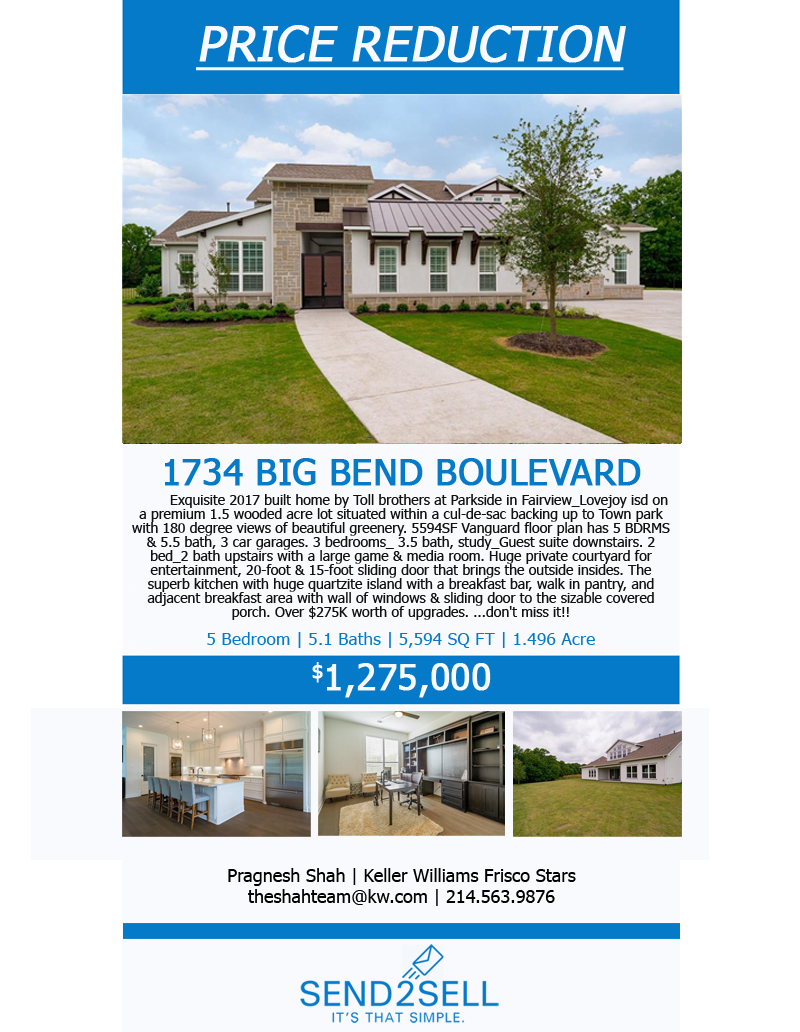 PRICE REDUCTIONS
The best way to let agents know of a price reduction is by Letting Them Know!
What we can do
Our Services
Email Marketing
Put your listing in the inbox of thousands of fellow agents to support your other marketing efforts.
Why? The MLS only triggers your listing when an agent actively searches for the right criteria. Our service places your listing in front of 98% of the agents in the metroplex!
Responsive Desktop & Mobile Design
Responsive design is an approach to email creation that makes use of flexible layouts, flexible images and cascading style sheet media queries. The goal of responsive design is to build email campaigns that detect the visitor's screen size and orientation and change the layout accordingly.
Agent Databases
We work tirelessly keeping our database up to date with all the active real estate agents in your market. We quote having 98% of all agents per market because there are always new agents entering the market or dropping out. We currently support areas in California, Florida, Illinois, New York, Oklahoma and Texas.
Tracking Analytics
Don't just take our word for it! Now you can measure the success of your campaign right from within your own portal. We provide you with the tracking analytics for each of your campaigns so that you can be in full control of your marketing efforts.
Share On Facebook
We believe that the best way to market your listing is to use every marketing outlet available. That's why we have gone a step further and integrated with Facebook to help you promote your listing to all your friends, family and colleagues.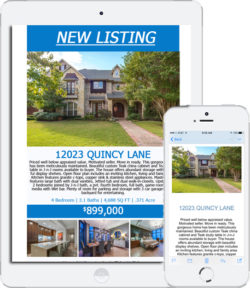 "Beautiful templates, super-fast turnaround, and awesome staff. Thank you Send2Sell for helping close my listings!"

Dustin Jordan - Hi View Real Estate

"I love Send2Sell! I use the service for all of my listings and get so much interest after each email blast."

Anonymous

Amazing Service!! I needed a rush Open House ad and Send2Sell just did it! Easy, quick and cheap, but above all Professional!!! Thank you very much.

Claudia Estudillo - Realty One Group Partners

"I've tried a lot of the other email marketing companies out there, and this is by far the best!"

Anonymous

"You are absolutely amazing! Thank you so much!"

Pamela Bookout - Coldwell Banker
Have any queries?
Faq's
How much do you charge to send an e-flyer?
Unlike our competitors, we charge only a flat rate per e-flyer within each market. Prices range from $29 to $69, depending on the mailing list size. Say Good Bye to other marketing services and choose our most trusted email marketing service.
Is there any design fee?
Absolutely NOT! We only charge for the distribution of the flyer. The design work comes FREE with your purchase! You can customize the design during the flyer creation process.
How many times will the e-flyer be sent?
We send your e-flyer once per order, and we make sure that the flyer is sent to all the members on the selected mailing list. You can resend the flyer by going to My Orders > Re-Order
Do you have a monthly subscription option?
Not at this time. But you can expect this in the near future. Our engineers are working on bringing a monthly subscription feature.
This will allow our customers to pay less fees per e-flyer.
Our refund policy
Once an order is placed, a slot is provided for email delivery on the scheduled date. We do not offer refunds after a slot is allocated for the order.
Did you know that about 53% of emails are opened on mobile devices?